rocky point newspaper
rocky point newspaper
rocky point newspaper
rocky point newspaper
rocky point newspaper
rocky point newspaper
rocky point newspaper
rocky point newspaper
rocky point newspaper
rocky point newspaper
NEW HIGHWAY CONNECTING TO YUMA NOW OPEN

New Highway From Puerto Peñasco to El Golfo Open

Highway SON 003 connecting Puerto Peñasco and El Golfo de Santa Clara is now open for travel. The new highway connects Rocky Point directly to San Luis Rio Colorado (Yuma). The long awaited shortcut to California is finished.

We departed from Puerto Peñasco on January 3, 2009, at about 8:15 a.m. to travel the new road and to report our findings to our readers. In 1957 my father, Bob Stirling, undertook a similar adventure for the Tucson Daily Citizen, traveling with his family of eight in a VW bus from Nogales to Mexico City. Thus, this trip also served as a fitting tribute to my father, who would have loved to have been along. I drove, while my wife, Debbie, took the photos on this page.

Highway SON 003 is found by turning off the main highway back to Arizona (Mex 008) at the turn off to Laguna del Mar. The highway begins where the road to Laguna del Mar turns north to the Laguna Shores Country Club. It continues along the coast of the Sea of Cortez to El Golfo de Santa Clara, 90 kilometers (56 miles) from Puerto Peñasco. This 90 km section is the only new construction on the 230km (143 miles) highway to San Luis Rio Colorado. Our total travel time was three-and-a-half hours, but we often stopped along the way.

Highway SON 003 is only a two lane highway, but the asphalt surface is well engineered and easily handled the limited traffic encountered along the way. The posted speed limit is 90 km per hour (55 mph).

A biosphere reserve information center and pullout is found just six miles north of Rocky Point. Highway 003 runs through the reserve (Reserva de la Biosfera El Pinacate y El Gran Desierto de Altar), which is well fenced from the highway with four by four cement posts and barbed wire. Posted signs prohibit stopping and entering the reserve anywhere. A second information pullout is located closer to El Golfo.

While Highway SON 003 follows the coast, the Sea of Cortez is only visible from the highway for short distances along the way. Railroad tracks are sporadically visible about 50 yards to the east of the highway.

About nine miles north of Rocky Point is the El Sol Bar and Restaurant. It was too close and too soon to stop, so we kept moving. It looked like somewhere we would have stopped in 1957.

Signs soon indicate the presence of wetlands, "zona de humedales." Posted signs along the highway clearly prohibit any off-road vehicles and trespassing. The area is part of the protected Humedales del Delta del Río Colorado, of Baja California and Sonora.

The highway is marked along the way with kilometer posts, and at KP51 there is an estuary and sand dunes along the road. A warning sign cautions drivers to be alert for sand piling up on the asphalt. We encountered sand on the shoulder of the road in two locations, but not on the traveled portion of the roadway. All drivers should remain alert for shifting sands, which can be encountered around any corner or hill.

Around KP75 a lot of Cholla type cacti (Jumping-Cactus) appear throughout the area. The cement posts in this area are laid out alongside the road in an orderly fashion awaiting their placement and barbed wire. Sand dunes appear on both sides of the highway.

About an hour north of Rocky Point there were six large earth moving tractors and trucks assembled for what looked like work on a new road to the east. It was just bladed dirt and extended a very short distance.


Click photo to enlarge

El Golfo de Santa Clara was reached at about 10:15 a.m., but we stopped at many locations along the way to take pictures, and we traveled very slowly through some areas taking notes. We also backtracked a few times to get the best scenic shots visible from the road. We used less than a quarter tank of gas in our GMC Sierra pickup truck, which has a 26 gallon tank.

Highway 003 actually bypasses El Golfo (link to map before completion - large PDF file). To enter the town make a left turn southbound at a road junction where the new SON 003 ends and connects to the old highway north to San Luis Rio Colorado. Travel one mile south to enter El Golfo de Santa Clara. Unfortunately, this one mile of road looks like a landfill with large amounts of garbage littering both sides of the road all the way into town.

We continued into the town of El Golfo and traveled along the only paved section of roadway beside a school, houses, and small businesses. Dirt roads intersected the main paved section, which was no more than several hundred yards in length. The dirt roads led to the Sea of Cortez. No Pemex station was visible anywhere from the main road. Reports from other travelers claim there is a Pemex station somewhere in town.

We elected to return to the highway without exploring El Golfo, which appeared to offer little at first glance. If there is a Pemex station in town, we did not see it. El Golfo is popular with off-roaders. Be warned: the Mexican government will prosecute anyone who enters the natural preserve. The Mexican military may arrest you if you are caught in the dunes, estuaries, and wetlands. No ATVs allowed.

On the road to San Luis about 22.7 miles north of El Golfo, the paved road ended at KP77. We were detoured on dirt for about a mile. Traffic was stopped at a Mexican Army check point at KP76, where a friendly soldier asked to search our truck. We graciously agreed and exited the truck while he glanced at and poked at our suitcases. The search lasted no more than a minute or two and we were on our way. The pavement resumed 23.3 miles north of El Golfo just after the checkpoint.

No where along the highway did we see any of Mexico's famous "Green Angels" vehicles, and no where did we see any Pemex stations. A state police vehicle drove through the Mexican Army checkpoint while we were there. No other law enforcement vehicles were seen anywhere on the trip, except at an accident scene.

If you ever have an emergency anywhere in the State of Sonora, just dial the new hotline "help" number 078. See GREEN ANGELS link above.

The distance from El Golfo de Santa Clara to San Luis Rio Colorado on Highway SON 003 is 111km (69 miles). This section of the road is not new and the surface reflects its age. At times the painted lane divider disappears. The road at many places is elevated three feet higher than surrounding terrain with no shoulder. If you are inattentive at any time, you could easily rollover.

This road is not like the section from Puerto Peñasco to El Golfo. Pot-holes are found along the way, and at one section of the road (27.9 miles north of El Golfo until 28.4 miles north) the holes are so large that on-coming trucks and cars leave their assigned lane and drive at you head-on. So remain alert at all times. One hole occupied the entire southbound lane. Never assume the old highway meets modern engineering design or construction standards (large PDF file).

Citrus groves interlaced with agave plants are found about 30 miles north of El Golfo. A tire repair shop sign (a painted wheel in the sand) indicated a repair shop was located five miles ahead. A small village is located about 38.2 miles north of El Golfo, where the repair shop was located. The mountains from the Baja side of the Sea of Cortez are visible to the west. There is also a church, a school, and a fish store. The village ends 39.1 miles north of El Golfo. A transmission tower is located 40.4 miles north, and there is a small store selling wheat and honey on the east side of the highway. Trees started to appear and the desert began to give way to irrigated agriculture.

Approximately 41.7 miles north of El Golfo, in the town of Estacíon Riito, the highway jogged right over railroad tracks, where we witnessed the aftermath of a truck collision with a car. Police were on scene, and a few miles later we saw an ambulance headed south towards the accident site. San Luis Rio Colorado is 39 kilometers (24 miles) away. Here we saw the only Pemex station outside San Luis, but it was abandoned.
We arrived in San Luis at 11:45 a.m. with our gas tank still 2/3 full. Once in the city we noticed no signs directing us to the border, so we continued straight ahead. We soon knew that somewhere along the way we should have turned. The pavement ended.
We stopped at a Pemex station in San Luis to ask for directions. Very friendly men directed us two miles up the street where the road ran into the border fence. They told us to turn left at the fence. We turned left and proceeded along the three lane street until traffic backed up. We were stuck in a long line of cars waiting to enter the U.S. We stayed far to the right along the fence, and it appeared both lanes moved at about the same speed. We were in line for one hour and 30 minutes (Saturday) before reaching the U.S. Customs agent. He asked for our passports.
Today proof of citizenship is required to enter the U.S., although passports are not technically required until June 1, 2009, according to the agent who admitted us into the country. Travelers should obtain one now.
Once inside the U.S. it took another 30 minutes to travel through San Luis, Gadsden, and Summerton to reach Yuma. San Diego is 172 miles west on Interstate 8, about a two-and-a-half hour drive, depending on the Border Patrol check point in the mountains outside San Diego.
Quick tips before you go:
Gas up and check oil, water, tires, belts, hoses and spare tire

Carry plenty of extra drinking water and tools

Take a cell phone and/or CB radio

Charge cell phone battery before leaving

Do Not Drive At Night

Dial 078 to call for EMERGENCY HELP

143 miles from Puerto Peñasco to San Luis Rio Colorado.

56 miles from Puerto Peñasco to El Golfo de Santa Clara

Drive safely, respect the signs and avoid high speed

Don't drive if you are tired

Don't drink and drive

Use your seatbelt

Do not litter

DO NOT DRIVE OFF-ROAD IN PROTECTED ZONE!
Advertise Your Business Here
View from alongside Highway 003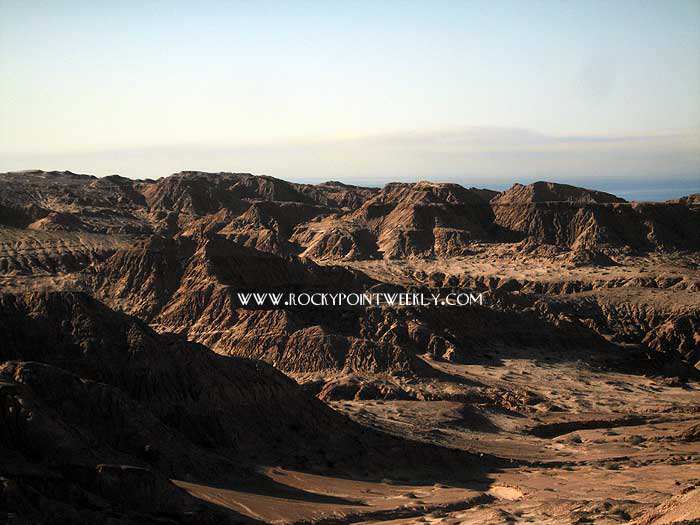 Click photo to enlarge